Halifax | Sunday, August 10th, 2014
Southwest Properties' new community on the site of the Sisters of Charity's former Motherhouse got a name and a lead retail anchor tenant today.Southwest Properties announced it's development name at the exact location where their new, sustainable community will take shape over the next 10 years.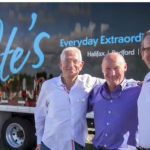 During a Summer Picnic Party at the top of Seton Road in Halifax, Chairman & CEO, Jim Spatz announced to invited guests from the surrounding community that Seton Ridge would be their new neighbour.
"After several engagement sessions, public consultation, online surveying and many suggestions, the name we kept coming back to, and the overwhelming people's choice, was Seton Ridge, " said Spatz. "We feel the name aligns nicely with the history and the natural geography."
Spatz thanked and acknowledged the Sisters of Charity in his address. "I am thrilled that the Sisters have entrusted us to help shape the future of this most important and special place. It is a challenge and opportunity that we take most seriously. Our goal is to create an outstanding and sustainable community, to add to the vibrancy of the entire area, and to always try to be good neighbours "
Pete Luckett, who hosted the cornboil, made a surprise announcement to guests by revealing that he would be the first retailer in phase one of Seton Ridge with a 20,000 square store.
Addressing the crowd, Pete acknowledged his long standing relationship with developer Jim Spatz. "This is an incredible location and a fabulous opportunity for me to work with Jim and Southwest again," he said. "This new store's central location means shoppers won't have to go out of their way to be enjoy our superior selection and quality. Being able to offer the neighbourhoods in and around Clayton Park with a closer, fresher, healthier alternative is a very exciting evolution for the company."
Seton Ridge will maintain a level of connectivity to allow current residents to enjoy the amenities that the new urban village will create. Urban design principles, such as walkability, natural open spaces and architectural variety in the housing choices will ensure the creation of a sustainable, beautiful and livable community.
President & COO, Gordon Laing noted the vision for the property. "During our four public information sessions we listened to comments from the neighbours and responded in the planning of Seton Ridge. Our plans include building a vibrant community with services and amenities that will foster connections to adjoining neighbourhoods."
Southwest is expecting City Council to review the development's initiation report in September. As part of the development approval process a public information session will take place in the fall and approval is anticipated for 2015.
The first phase of the development includes the extension of Seton Road to Lacewood, followed by the residential and retail component. More details on the project and public information session will be revealed over the next few months.
For more information on this development, go to https://southwest.ca/setonridge