Resident Updates
May 16, 2020
---
On Friday, May 15th Dr. Robert Strang, chief medical officer of health, announced that Nova Scotians will be able to visit one other household of "immediate" family.  He stated that two immediate households can come together without physical distancing. These families must agree that visiting is mutually exclusive to minimize risk of COVID-19 spread.  He also highlighted that in choosing a household to connect with, families should consider three factors -  age,  occupation, health condition of all members of that household.
We understand that connecting with family and friends is important for our resident's mental health. With this new announcement we have made the decision to ease our visiting restrictions at the buildings.  For the health and safety of all residents and employees we ask that you respect the government guidelines and restrict any visitors to only the immediate family you have identified within your "bubble".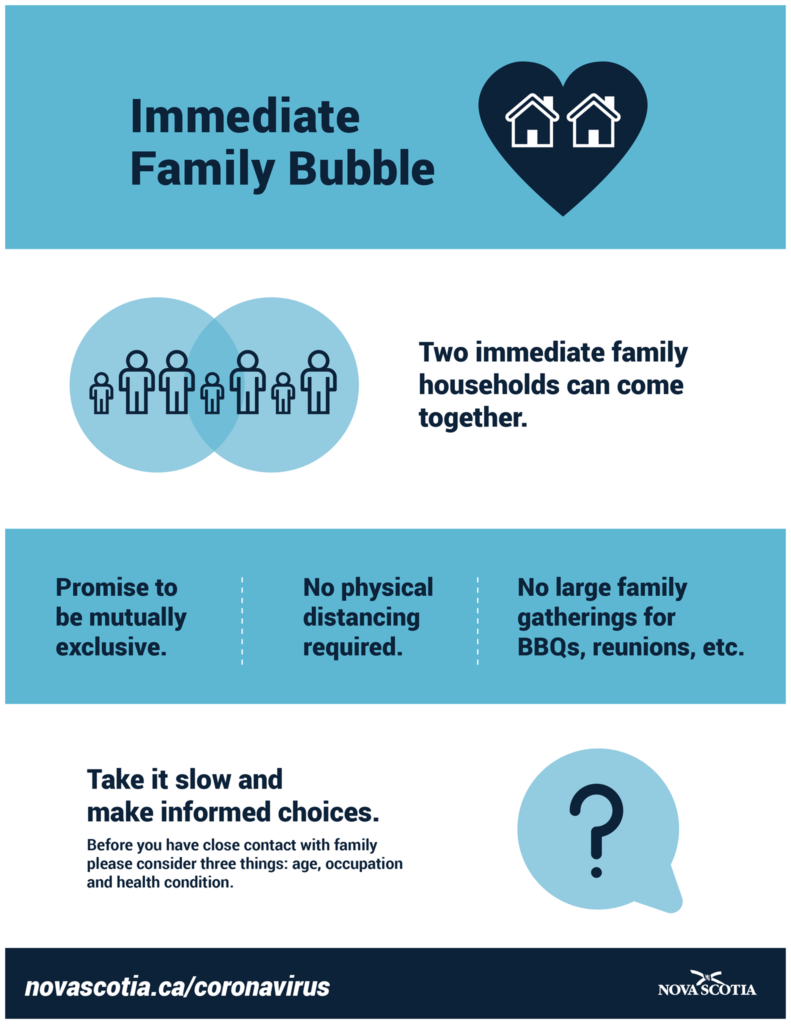 Other than those permitted in your family bubble, our no visitor policy will remain in effect to prevent unnecessary visits and social gatherings.The building delivery policies will also continue.   All food & grocery deliveries must be met at the door and parcel delivery instructions must note "no signature required". Delivery personnel cannot enter the building and our in-suite maintenance visits are only for emergency situations.
The easing of restrictions is a signal that Nova Scotia is headed in the right direction.We appreciate that Southwest residents have been following our no visitor policy.To date, Southwest residents and employees have been safe through this pandemic and it is all our responsibility to respect our neighbours and families by continuing to remain vigilant in limiting our movements and adhering to the advice of our authorities.

Useful Links & Resources

Online Resident Events
We have taken our residents events online !  Let's stay connected.  Please join us....
We've curated another list of the top 10 things to do while staying closer to home... Check them out HERE
Inside or outside, make staying close to home this summer a beautiful thing !
Join design stylists Debra andNeva from THORNBLOOM for an online lunch and learn. They will livestream on Southwest's facebook page to discuss the perfect size and styles for balcony furniture and offer suggestions on how to accessorize.
MONDAY, MAY 18th - 12 NOON
Join the knowledgeable staff from Audrey's Little Shop of Plants as they host a complimentary plant care workshop. Receive basic plant care tips and suggestions on finding the perfect plants that will thrive, give colour and style to your space.
Thursday, May 7that 6:30 pm
Zoom Link:
https://us02web.zoom.us/j/89410169434
How to reduce your dog's stress during COVID-19 - Did you miss session ? VIEW HERE >
Join Canine Behavioralist Jesse Ridgley from Dogtopia as he explains the small things that can be done to help reduce the stress on your pets within the comfort of your home.
Wednesday, April 29th at 6:30 pm
Zoom Link:
https://us02web.zoom.us/j/89785515053
Dogtopiais offering free daycare for first responders and frontline workers until NS lifts the state of emergency. For all other Southwest residents as part of resident rewards the first day is always free! For more information or to schedule your daycare please reach out to Dogtopia at 902-907-5364.
We've teamed up with R Studios to bring our residents together for virtual fitness. Sign up for one or all 3 Livestream classes - that will allow you to flow, sweat and burn from home !
See class times and details below.
Wednesday, April 22nd at 12:00 pm - Warriors with Jody
---
Bringing out the warrior within. A circuit workout to build not only the physical, but the mental strength too. Encompass speed, strength and endurance training that uses weights and body weight in a fast paced, high rep workout. Expect a challenge that takes you from a repetitive rotation of strength to cardio burnout. Grab whatever weights you have on hand. Modifications will be offered for those who do not have weights.
Zoom Link:
https://us02web.zoom.us/j/89907635966
Thursday, April 23rd at 6:00 pm - Slow & Soulful Yoga with Nikki
---
Start slow, get strong, and fuel mind, body and SOUL. A slower moving, foundational and strategically built yoga class that will allow you to soften and slow it all down.
Zoom Link:
https://us02web.zoom.us/j/81148821514
Saturday, April 25th at 10:00 am - Barre with Nicola
---
Sculpt and tone the body from head to toe in this perfect blend of pilates, dance and movement. A graceful, dynamic and fun workout curated to a carefully selected playlist that will leave you feeling invigorated and elongated. Barre classes are done mostly standing, incorporates an overload of delicious leg work, abs and upper body. Grab a chair for support and some hand weights (soup cans work well!)
Zoom Link:
https://us02web.zoom.us/j/87139371902
Make sure you have ZOOM downloaded. You can use ZOOM on your phone or computer/tablet. Once you're in, make sure your mic is muted for the class but please send a smile and a wave and feel free to kick around after class to connect and chat with your fellow residents. *Click on the top corner of the instructors image to make them the majority of your screen.
We've curated a list of the top 10 things to do while staying at home ! Check them out HERE.
The Clever Barkeep owner and mixologist Matt Boyle will demonstrate how to make great cocktails at home. He will be featuring two classic cocktails the Old Fashioned with Whiskey or Rum and a Vodka or Gin Cucumber Gimlet. CLICK HERE for list of ingredients so you can mix along during this online event. ( Make sure you have ZOOM downloaded. You can use ZOOM on your phone or computer/tablet.)
Saturday, April 18th | 6:00 PM - 7:00 PM
https://us02web.zoom.us/j/89292002394
Meeting ID: 892 9200 2394
Attention wine lovers! 🍷We've teamed up with Bishop's Cellar to offer an exclusive wine appreciation event on Facebook Live with Sommelier and Retail Manager Kathryn Harding.
Wine can be intimidating but it doesn't have to be. The most basic recipe for anyone to learn more about wine is: Look at it. Smell it. Taste it. Talk about it with others. Repeat.
If you are 19+, we encourage you to grab whatever wine you have on hand and join us online at https://www.facebook.com/SouthwestHFX/on Thursday, April 9th at 7:00 pm.
Our annual Southwest Properties children's Easter colouring contest is online this year and is open to more than colouring! This year we're taking this contest online and opening it up to all residents. We're encouraging you to you get creative! Whether it's your decorated eggs 🐣, homemade treats 🍰, or a photo of your pet dressed up for the occasion 🐕, we want to see you get creative!🐰
You could win a beautiful fresh fruit arrangement with gourmet chocolate covered fruit from Edible Arrangements delivered right to your door!
Post a photo of your Easter festiveness to this event page between now and April 12 at 6pm (Atlantic Time). The winner will be selected by random draw and announced on Facebook on Monday April 13th. Good luck!

Pandemic Team Messages
The health, safety and wellness of our residents, employees and commercial tenants continues to be of upmost importance to Southwest Properties.  The Southwest's Pandemic Committee is focused on keeping abreast of the latest news and industry standards as it related to our stakeholders.