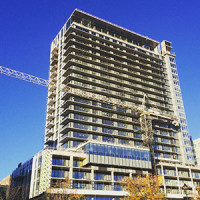 This weekend will mark another major milestone in the construction of MAPLE, the largest, multi-unit residential building to come to downtown Halifax. Southwest Properties will complete the final dismantle of the construction crane and remove it from the Hollis Street site.

"This is an important milestone that clearly signifies the completion of yet another phase of construction," said Jim Spatz, Chairman and CEO of Southwest Properties. "We are thrilled with our construction team's progress on the project, as we move another step closer to welcoming first residents in the Spring."
The final concrete pour of the building's structure took place approximately 6 weeks ago. The crane remained in place to assist with hoisting equipment and materials. With all materials now in place, the crane started to be lowered last week and sections were dismantled and stored at level six. This Saturday, all stored sections and final components of the crane will be removed.
The crane has been a fixture to the downtown Halifax landscape since 2014. It's removal is a key moment in MAPLE's construction, signaling that the glass curtain wall has been fully installed and the project has entered into its final phase towards completion. "With the exterior substantially complete, the winter months will be all about filling in the voids left by the crane, putting the finishing touches on units and reinstating the surrounding property," added Spatz.
An external hoist for crew and material will remain on the Hollis Street side of the building and is scheduled to come down in early January when the interior building elevators will be operational.
"MAPLE will be the largest rental building ever built in downtown Halifax," said Spatz. When occupied, the building will add up to 500 people living in the downtown core who will contribute to the overall vibrancy of the urban lifestyle. "It will bring innovation to urban living in its design, its technology, its sustainability and especially in the residents' experience – an incredible location and fabulous amenities. Southwest built the first LEED Gold certified multi-unit building in Atlantic Canada and we are targeting LEED certification for MAPLE which will make it the largest LEED certified multi-unit building east of Quebec."
Southwest launched its pre-leasing campaign in the Spring, a full year out from its occupancy date. MAPLE's pre-leasing has been extremely positive over the last 6 months, with Southwest reaching 30% of units leased to date.
The company is currently self-managing two major construction projects in-house through its Southwest Construction Management division, MAPLE and the two building development on South Park Street.
Leasing centre and full model suite located at 1479 Lower Water Street.