Halifax, Friday, October 14th, 2016
Officials with Southwest Properties, New Castle Hotels & Resorts and JLK Global Fund International gathered yesterday for the official ground breaking ceremony of the Courtyard and Residence Inn by Marriott, at Dartmouth Crossing. The 136,000-square foot project is expected to open in Q3 2018 and will be the first Marriott-branded project in Dartmouth.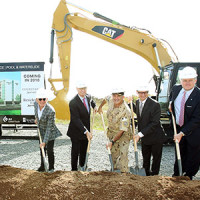 The Southwest / New Castle / JLK Global team will construct a 106-room Courtyard and a 84-room Residence Inn that will share a pool, waterslide, fitness centre and meeting rooms. The shared facilities allow the project to maximize efficiencies and offer more services to both extended-stay and short-term guests.
This project places the development partners in the forefront of a fast-growing trend of dual branded properties, one that maximizes investment returns for owners enables superior guest amenities and caters to a broader range of customer preferences. New Castle has successfully introduced the dual-branding model in recent projects.
"The dual-brand configuration has been tremendously successful for us in other urban areas like downtown Syracuse, NY where land acquisition is costly," said Gerry Chase, president and COO of New Castle. "I feel very confident that this project, with known and trusted development partners, and a proven product mix, will be completed in a timely fashion and ramp up quickly to serve the needs of business and leisure travellers."
"I'm pleased to be involved in this hotel project, in this very fast growing part of Halifax Regional Municipality. It gives me great pleasure to invest in the City that I enjoy so much," Fred George, president & CEO – JLK Global Fund International added.
"Dartmouth Crossing is rapidly expanding with iconic brands and is attracting business travellers working in the greater Halifax region," noted Jim Spatz, Chairman & CEO for Southwest Properties. "The hotel is well placed in an area that is becoming a primary shopping destination for Maritime Canada and an athletic hub for Halifax with the new four-pad ice area and the existing Harbour East soccer and football fields," added Spatz. "We believe in Dartmouth Crossing because of our great success with the hotel we built and opened with New Castle Hotels in 2009. I want to thank New Castle for being an excellent partner and hotel operator. And our development team at Southwest, who I know are doing a great job finalizing plans and getting ready to construct this project. And North American and Glenn Munroe for giving Southwest and New Castle the option in 2015 to do the second hotel at Dartmouth Crossing. And finally, I'd like to thank Fred George for his confidence in this project and welcome him on board as a partner, and for his commitment to the growth of Halifax."
The hotel complex planned for Dartmouth Crossing is another big development for the Dartmouth area, and follows the recent announcement of IKEA coming in Fall 2017. This hotel partnership is the fourth for Southwest and New Castle, including the Hampton Inn in Dartmouth Crossing, Residence Inn, Moncton and the renovation of The Algonquin Hotel & Resort in St. Andrews by the Sea.