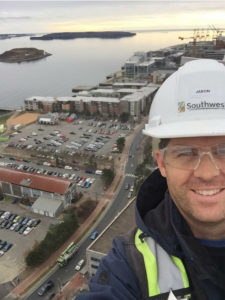 At Southwest Properties we like to acknowledge employee success. Jason Comeau, Safety Manager with Southwest Construction, received his certificate in Occupational Health & Safety ( OH&S ) from the University of New Brunswick's College of Extended Learning.
Jason required 11 university courses in OH&S to achieve this certificate, that now qualifies him to write the final Canadian Registered Safety Professional ( CRSP®) accreditation test. A CRSP® designation is considered a benchmark in the Occupational Heath and Safety ( OH&S ) profession and the certification of choice for OHS professionals.
Jason took the two year journey towards accreditation by studying during his free time, evenings and weekends. He noted that it was a proud moment when he received his OHS Certificate and academic report in the mail. "This experience has added confidence in my ability to lead and manage and the certificate is one step closer to my accreditation. The education has provided transferrable skills that I have been able to use in my position at Southwest Properties."
Having received his OHS Certificate, Jason is now registered to write the final CRSP® exam to acquire his full CRSP® accreditation.
As an employer, Southwest Properties recognizes the value of such certification and congratulates Jason on his recent achievement.
Congratulations Jason…..