Southwest Properties has achieved two major accomplishments with its residential project MAPLE, winning the Rental Development of the Year 2018 award from the Canadian Federation of Apartment Associations and achieving full lease-up of all 300 units within 12 months of building occupancy.
"MAPLE has brought a new level to living downtown in its design and resident amenities, and we couldn't be more proud of the overwhelming acceptance in the marketplace", said Gordon Laing, President & CEO for Southwest Properties. "The fact that the largest, multi-unit residential building to come to downtown Halifax has leased-up within such a short timeframe is a great testament to the quality of the development and the demand that exists in the market." In achieving 100% occupancy, the building adds almost 500 people living in the downtown core who are contributing to the overall urban lifestyle in Halifax. "MAPLE has brought innovation to urban living in its design, its technology, its sustainability and especially in resident experiences."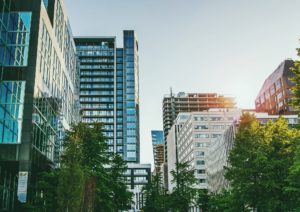 Last week Laing accepted the Rental Development of the Year 2018 award for MAPLE at the Canadian Federation of Apartment Associations conference in Vancouver. The Judges' mentioned the building's amenities, design, customer service and sustainable factors in the final selection of MAPLE. Southwest is targeting LEED Gold certification for MAPLE, which will make it the largest LEED certified multi-unit building east of Quebec.
"It's nice to be recognized on a national level for the work we are doing in Halifax. We are extremely proud of our team who constructed, leased, and now operate and provide exceptional customer service at MAPLE", added Laing.
The company is currently pre-leasing apartments in CURVE for early 2019. CURVE is within the much sought after, two-building development of South Park, situated adjacent to PAVILION condominium and the new YMCA Centre of Community.
"CURVE will add another great choice for downtown living to Southwest's portfolio," stated Jim Spatz, Executive Chairman for Southwest. "Amenities are extremely important and is one of the key reasons MAPLE leased so quickly. CURVE will be no exception. Residents will enjoy an amenity rich building that will include a large rooftop terrace across from the Public Gardens with a swimming pool and hot tub, a fitness room and yoga studio, a Great Room with a fully equipped kitchen, a living area, a private dining room and a separate screening room with theatre seating."
Construction is currently on the twelfth floor of the sixteen storey building and pre-leasing has been active. The CURVE Leasing, Design & Experience Centre is located at 1479 Lower Water Street.